Music plays a large part in my life. Lyrics carry powerful messages that can convey the deepest of emotions and a beautifully constructed track can stir repressed feelings. Personally, music helps me understand the world around me and I find that some songs relate to how I am feeling or what I have experienced throughout my life.

Check out the playlist below. I'll be updating it constantly so keep watching this space!
Powered by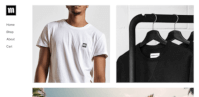 Create your own unique website with customizable templates.