Mental health can affect anyone at any time. It's estimated that around one in four people will experience difficulties with their mental health, yet despite this, there is still a stigma surrounding the issue. This stigma, in turn, prevents people who are struggling reaching out for help.

In 2014, my battle with depression reached a critical point. One January night, I ended up in hospital having self-harmed and let me tell you, that was one of the scariest nights of my life. I still remember the pain and the question 'What have you done?' running through my head. I wouldn't wish that experience on anybody.

Powered by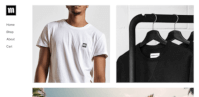 Create your own unique website with customizable templates.